Carey and Lea of Massachusetts. Philadelphia, 1822. $450.00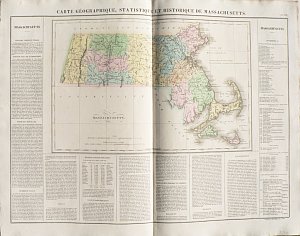 "Carte Georgraphique, Statistique et Historique de Massachusetts"
Philadelphia: Carey and Le, 1822.
Henry Charles Carey and Isaac Lea were publishers who worked on Chestnut Street, Philadelphia during the first quarter of the 19th century. They are best known for their Historical, Chronological and Geographical American Atlas published in Philadelphia in 1822.

The atlas was such a success that within a year, it was published in Europe. This map was included in an edition of the atlas published in Paris.
Rivers and canals, climate, principal ports and cities, populations of major cities, religion, manufacturing, government, listing of governors since the founding of the colony.
Unusually great detail of Cape Cod, Martha's Vineyard, the Elizabeth Islands, Duke's Island,
22 ¼ x 26 5/8 inches.
Hand colored engraving.
Very nice condition.