(Map of Newport, Rhode Island- Siege of Newport) The Life of Washington…Philadelphia, 1832. Framed $895.00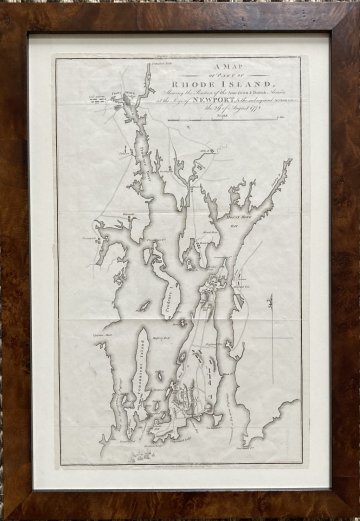 "A Map of Part of Rhode Island, Showing the Position of the American & British Armies at the Siege of Newport, & the subsequent Action on the 29th of August 1778"
This wonderfully detailed map of Newport, Rhode Island was one of just ten strategic maps depicting George Washington's major Revolutionary War campaigns. The map was included in a slim, scarce atlas titled: The Life of Washington, Commander in Chief of the American Forces during the war which established the independence of this Country and First President of the United States complied under the inspection of the Honourable Bushrod Washington bequeathed to him by his deceased relative by John Marshall., and printed in Philadelphia in 1832 and the atlas accompanied a biography of George Washington and the development of the new nation. The book was ably written by Chief Justice of the Supreme Court John Marshall. Marshall was particularly suited as the first President's biographer as he was a close personal friend of Washington. Marshall announced Washington's death to the Country, gave the eulogy, and led the commission to plan a monument in the capital city.

Copperplate engraving uncolored as issued.
17.5 x 10.5 inches sheet size. Archivally framed 21.5 x 14 3/4 inches finished frame size.
Folds as issued in book, very good condition.