Colton, J.H. Massachusetts and Rhode Island. New York, 1855. $225.00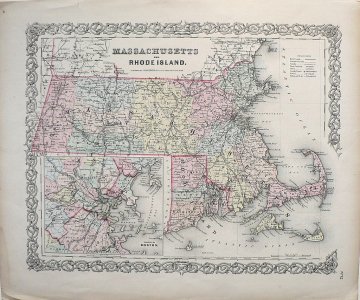 "Massachusetts and Rhode Island"
with and inset of "Vicinity of Boston"

Joseph Hutchins Colton (1800-1893) was one of the most successful publishers of atlases in the middle of the 19th century. His maps are noted for their highly legible detail concerning places names, railroads and canals and locates cities, capitals, counties and villages. This map depicts Massachusetts, with excellent portrayals of Cape Cod, Nantucket, and the North Shore as well as an inset city plan of Boston, Rhode Island, including Block Island and portions of southern Vermont and southern New Hampshire.

Hand colored lithograph.
15 ½ x 18 1/2 inches.
Very good condition with light overall patina, faint waterstain in extreme lower left bottom margin.