US Geological Survey (Nantucket Island) 1898. Framed $695.00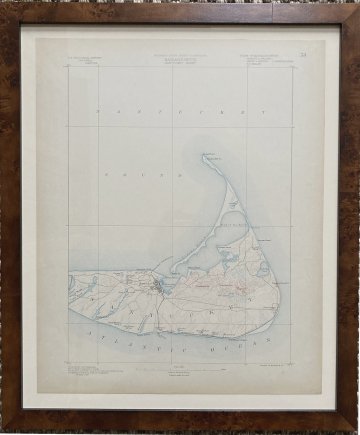 Plate 53 Massachusetts Nantucket Sheet
One of the most sought after topographical maps produced by the U.S. Geological Survey.
The 1898 edition of the USGS map of Nantucket details the island from Great Neck to the Atlantic identifying topographical features such as Shawkemo Hills, Altar Rock Hills, Folger Hills, Gibbs Pond, Mioxes Pond, Miacomet Pond, and the head of Hummunock. The map also describes roads traversing the islands along with the Nantucket-Siasconset Railroad, along with Sankaty Head lighthouse, Nantucket Cliff Beacons, Brant Point Light and Nantucket Lighthouse at Great Point.
The office of the Coast Survey (later the US Geodetic Survey) was created in 1807 by President Thomas Jefferson and is the oldest scientific organization in the US Federal Government. The office was created in response to a need for accurate navigational charts of the new nation's coasts and harbors.

Lovely blue outline color, lithograph measuring 21 x 17 inches, 25 x 21 inches finished framed size.
Archivally framed in burled wood molding.
Excellent condition.