...New England. Philadelphia: S. Augustus Mitchell, 1852. $150.00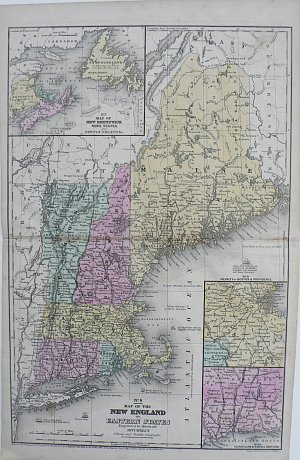 "Map of the New England or Eastern States"
A detailed map of the New England coast extending from Long Island in the south to New Brunswick in the north including Connecticut, Rhoade Island, Massachusetts, (with detailed depictions of Cape Cod and Nantucket), Vermont, New Hampshire, and Maine. Maine is particularly well described and is situated close to the center of the map. Insets include "the vicinity of New Haven and Hartford, "Vicinity of Boston and Providence" and "Map of New Brunswick Nova Scotia and NewFoundland." Includes depictions of steam ships are off the coast of Long Island and Maine, a packet ship off the coast of Long Island, a whale ship off of Martha's Vineyard and a steam ship off of the coast of Maine headed to Liverpool.
18 1/2 x 11 3/4 inches.
Hand colored engraving.
Excellent condition.