Philadelphia Centennial Plan of the Grounds ... Phila: Centennial Guide Book Co, 1876. $300.00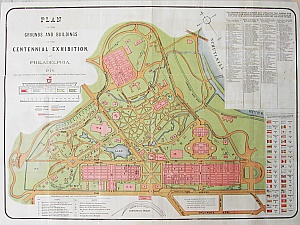 "Plan of the Grounds and Buildings of the Centennial Exhibition at Philadelphia, 1876.

A perfect gift for anyone intrigued by the Centennial, this map is a wonderfully vibrant and fascinating repository of information concerning the exhibition. It identifies every building by number, entrances and exits of buildings and the fair grounds, flags and locations of exhibitions from foreign nations, fences, restaurants, etc. It was included in the Authorized Visitors Guide to the Centennial Exhibition and Philadelphia 1876 published in Philadelphia by J.B. Lippincott & Co in 1876 and if offered with the accompanying 48 page text.
Chromolithograph.
17 " x 24 inches, sheet.
Very good condition. Professionally deacidified and flattened.