"A Plan of the City and Environs of Philadelphia Engraved and Published by Matthew Albert Lotter 1777. Sold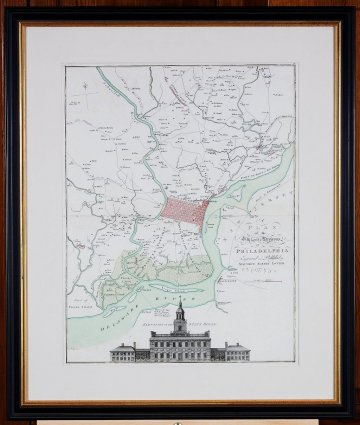 "A Plan of the City and Environs of Philadelphia Engraved and Published by Matthew Albert Lotter 1777
A fine example of the Lotter edition of Scull & Heap's seminal Philadelphia map. First issued in 1752 to market and promote William Penn's new city on the Delaware. This map was created in 1777 when interest in the events of the American Revolution were impatiently demanded by an European audience hungry for news of the revolt. The demand for information was met by publishers in England, Germany and France with the reissue of the earlier Scull and Heap map, still the most up-to-date cartographic treatment of Philadelphia available at the time. Holmes' grid plan for the city is shown, situated between the rivers, and numerous outlying 'country seats' are placed and named, with the primitive road system also indicated. Lotter updated the information found on the earlier map, taking into account changes in place names around the city and development along the Delaware River. He also moved the elevation of the Statehouse (Independence Hall) to the bottom center of the image, anchoring it very nicely.
This map is without a doubt one of the most important, attractive and affordable maps of Philadelphia at the time of the American Revolution. Printed in Augsberg in 1777 and included in Tobias Conrad Lotter's Atlas Geographique.
Fine engraving with full original color.
23 ½ x 18 inches. Archivally framed.
Very good original condition.