Scull, Nicholas and George Heap. A Map of Philadelphia and Parts Adjacent. London, second edition 1777. $895.00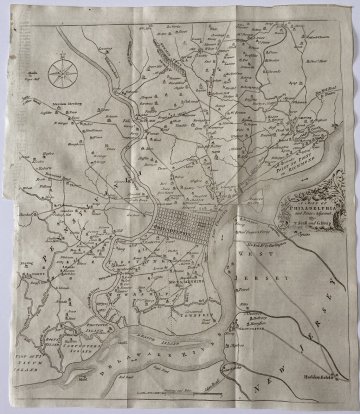 "A Map of Philadelphia and Parts Adjacent."
Engraved hand-colored map of Philadelphia with compass rose and decorated cartouche, showing
Philadelphia during the revolution. In the wake of the French and Indian War, relations between the 13 American colonies and Britain deteriorated, spiking European interest in the restive colonies and their topography. The city and environs of Philadelphia--focus of much of the revolutionary activity and the headquarters of the Continental Congress--were of particular interest. The map was first published in 1753 in the Gentleman's Magazine with a table of distances, which does not appear on the later issues. The map was the basis for Faden's famous map, detailing colonial Philadelphia family names and their land holdings.
Ref: Phillips, Maps, p. 700; see Snyder 16.


Copperplate engraving uncolored as issued on laid paper.
14 x 12.5 inches sheet size, folds as issued.
Small professional repair upper left margin without loss.
Very good clean map