(California, Utah, Nebraska, New Mexico, Arizona) Johnson's Family Atlas, New York 1864, $395.00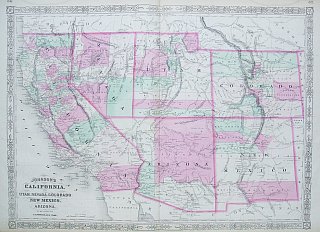 "Johnson's California, Utah, Nevada, Colorado New Mexico and Arizona" Large detailed map of the western United States printed just three years into the American Civil War. Published by Alvin J. Johnson for his New Illustrated Family Atlas of the World with Physical Geography and with Descriptions Geographical, Statistical and Historic…, from plates he purchased from J. H. Colton. This map is typical of those Johnson produced between 1863-69 with its identifying fretwork border design. This wonderful document details the United States mid – 19th century before Oklahoma, Wyoming or the Dakota territories became states.
Hand-colored lithograph, 28 ½ x 18 inches sheet size. Very good condition.