(Italy and Sardinia) Danckerts. Amsterdam, c. 1660. $750.00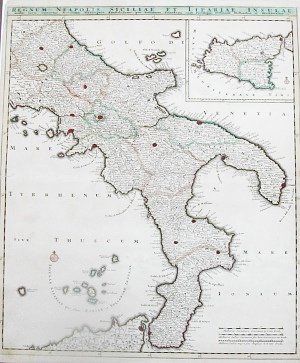 "Regnum Neapolis, Siciliae et Lipariae Insulae"
A very attractive, tremendously detailed map of Southern Italy and surrounding islands with and inset of Sicily published by one of the great Dutch mapmaking houses. Major settlements are marked in red. Crispness of engraving makes the name of every small town clearly visible.
23 1/4 x 19 inches, sheet. Hand colored copperplate engraving with original well-preserved outline coloring. Very good condition. Sheet archivally restored and backed with tear at lower right expertly repaired.