(Turkey) Natolia... Amsterdam, Jansson. c. 1680. SOLD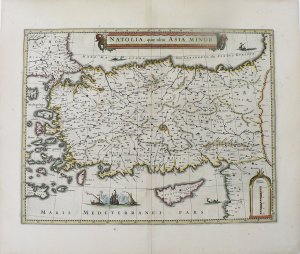 "Natolia, quae olim ASIA MINOR"

A beautifully decorative large scale map of Anatolia and Asia Minor including Turkey, Rhodes, and Cyprus by Jansson, one of the foremost Dutch cartographic dynasties of the 17th century. As on most Jansson maps, there is enormous detail clearly and accurately described so that those familiar with the "Turquoise" coast can easily find the historically significant cities of Galipoli, Troy, Smyrna, Izmir, Marmaris, Perge, Assos, Myrna, etc. as well as the nearby Aegean Islands. Sailing ships and sea monsters ply the seas and turbaned figures adorn the title. Latin text on reverse.

20 x 23 inches, sheet.
Hand colored copper engraving.
Excellent condition.