Wilson, J.A. Wilson. RMS Maurantania. Lithograph with c. 1909 photo of Lusitania. $225.00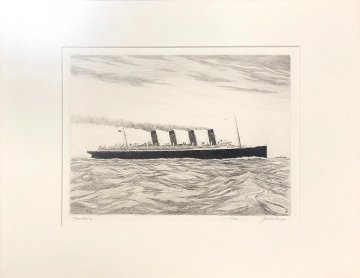 Charles J.A. Wilson. R.M.S, Maurantania.
Charles J. A. Wilson (1880-1965) was a marine painter and etcher. He studied art at the Pennsylvania Academy of Fine Arts from 1899 to 1902 and then enlisted in the navy as a military artist. During the First World War, Wilson spent two years in France in this capacity and following the war was commissioned on many occasions to both paint and etch American warships and marine views. From 1920 to 1950, Wilson's art was exhibited throughout the United States, including major showings in Washington, New York, Boston, St. Louis, San Francisco and San Diego.
The RMS Mauretania was an ocean liner designed by Leonard Peskett and built by Wigham Ruchardson and Swan Hunter for the British Cunard Line. At the time it was built it was the world's largest ship.
Pencil signed lower right. 5/250
Etching.
7.25 x 10.25 inches, plate.
Accompanied by a silver gelatin print of the RMS Lusitania off of Lower Manhattan.