Bonneterre and Panckouke (Dolphin). Tableau Encyclopedique - Cetologie. Paris 1788. $195.00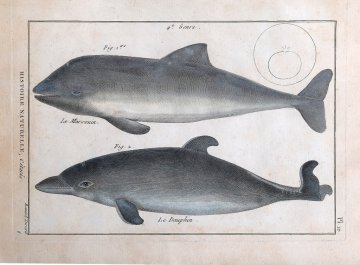 Plate 10 "Le Dauphin, Le Marsouin"

An original antique engraving from a comprehensive French encyclopedia produced in Paris in the late 18th century by Charles Joseph Panckouke. Entitled, Tableau Encyclopedique et Methodique des Trois Regnes de la Nature, the multi volume work was widely admired for introducing many new species of plants, animals, minerals, etc. to an eager European audience. Panckouke hired Abbe Pierre-Joseph Bonneterre (1752 – 1804) a French naturalist, to create the illustrated plates describing fish, reptiles, and amphibians, as well as cetaceans and mammals. This engraving was included as an illustration in the volume devoted to Cetologie (Whales).

Copperplate engraving on laid paper hand colored.
11 x 8 inches sheet size.
Excellent original condition.