Frasconi, Antoni. A Sunday in Monterey. New York: Harcourt Brace & World. 1964. $195.00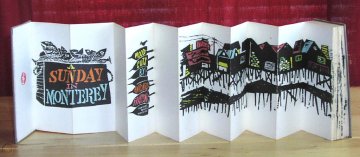 "A Sunday in Monterey"
This almost 10 foot long accordion-fold brightly colored panorama presents a lively and almost whimsical view of the buildings, wharves, ships, birds, boats and people populating the waterfront in Monterey California. Framed in a shadow box, this piece would be spectacular!!
Antonio Frasconi (1919-2013) illustrated more than 100 books including many for children. His work is in the collection of the Metropolitan Museum of Art, the Museum of Modern Art, the New York Public Library, the National Gallery of Art and the Smithsonian. In 1945 he received a one year scholarship to study at the Art Students League and settled in New York City. His first gallery exhibition was in the Weyhe Gallery in 1948. Frasconi represented his home country of Uruguay at the Venice Biennale in 1968. Many of his works provided social commentary including posters deriding Hitler and Franco and work protesting the Vietnam War and the rightist dictatorship in power in Uruguay from 1973-1985.
Antonio Frasconi's obituary in the New York Times noted that in 1953 Time magazine referred to him as America's foremost practitioner of the ancient art of the woodcut and that 4 decades later, The Art Journal called him the best of his generation.
Accordion-fold woodcut panorama measuring approximately 5 ¼ inches x 10 feet.
Housed in original slipcase with stamped paper label.
Paper boards faded due to light exposure.
The print itself is in near fine condition.