Kleinholz, Frank. Sunday in the Park. Serigraph. $250.00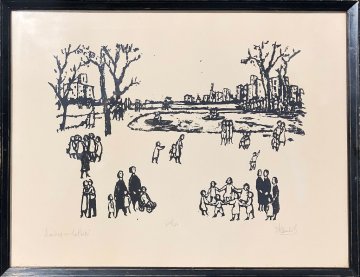 "Sunday in the Park"
A charming signed limited edition serigraph by listed American artist Frank Kleinholz (1901 – 1987). This charming print, titled Sunday in the Park, depicts groups of people playing, walking, and enjoying themselves at a grassy park with a pond and a skyline in the distance. The print is rendered in expressive rough marks in black on a white ground.
Kleinholz 1901-1987) was a Modernist painter from Brooklyn, New York, who was influenced by German Expressionists, Mexican Muralists, and American Social Realists. His work is included in many collections of various institutions such as the Brooklyn Museum, the Metropolitan Museum of Art, the Akron Art Institute; the Museum of Modern Art in Tel Aviv, Israel, the Hirschhorn Museum & Sculpture Garden in Washington D.C., and the Smithsonian Institution.

Serigraph on paper.
Limited edition. Signed by artist at lower right
Framed in a black painted moulding.
Excellent condition.