Lawrence Beall Smith "Leaves" New York, 1945. Lithograph. Sold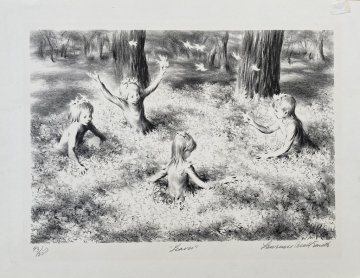 #43/250 "Leaves"
Four small children playing in a pile of autumn leaves – brings back lots of memories!
This lithograph was the work of Lawrence Beall Smith (1902-1989) an American painter, sculptor, lithographer and illustrator. Smith studied at the Art Institute of Chicago. He had a strong national reputation helped by his one-man exhibition at the Whitney Museum in 1941. Smith served as a war correspondent during World War II covering Europe.
Children were a major theme in Smith's lithographic art. From 1940 – 1970 he was commissioned a number of times by the Associated American Artists. Smith was one of the A.A.A.'s most prodigious artists contributing his sought-after lithographs for upwards of three decades. "Harbor Scene" (created in 1948) was published by the Associated American Artists in a limited edition of 250.
Uncolored lithograph. Signed and titled lower margin #43/250 edition.
13 x 17 ¼ inches sheet size.
Excellent condition.