Benton Murdock Spruance ("Fencers") Philadelphia 1937. $495.00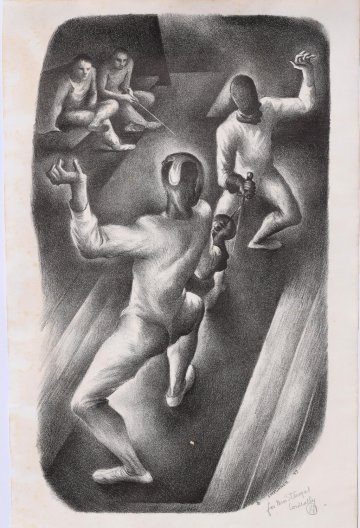 "Fencers"
Benton Murdoch Spruance (1904-1967) was a Philadelphia artist known internationally as an expert technician in lithography. This talented artist was educated in his home town at the University of Pennsylvania and the Pennsylvania Academy of the Fine Arts receiving many awards and fellowships. Spruance served on the Philadelphia Art Commission, was the chairman of the Arts Department of Beaver (now Acadia) College, and was the chairman of the Printmaking Department of the Philadelphia College of Art (now University of the Arts). His subjects were wide ranging including series of prints of the Circus, Cityscapes, Landscapes, Portraits, Sporting subjects, Animals and many more.
Vertically oriented fencing lithograph signed "Spruance '37" in the plate and pencil signed lower right margin "for Mrs Stengel Cordially BS". Hand inked and printed.

Uncolored lithograph
14 x 9 inches sheet.
Very good condition.