(Bream) ...Fishes of the British Islands. London, 1877. $95.00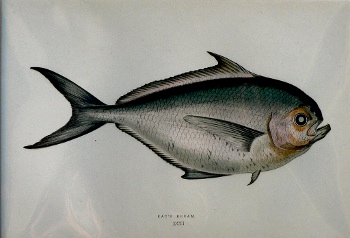 "Ray's Bream"
Jonathan Couch was an ichthyologist, local doctor, botanist, archaeologist and classical scholar. His
A History of the Fishes of the British Islands
published in four volumes between 1862 and 1865, is considered to be his major work. It continues to be referenced by scientists and fishermen today. The illustrations were drawn by Alex F. Lydon after drawings by Couch. They were engraved and color printed from woodblocks by Benjamin Fawcett and finished by hand.
Named for the man who first brought it to scientific attention, "Ray's Bream" is now commonly known as "Couch's Bream" or "red porgy." It is common in the Mediterranean and around the Canary Islands, the Azores and Madeira. It can also be found in the Western Atlantic off the US coast from the Carolinas to Texas, and off the South American coast from Venezuela to Argentina.
7 x 10 inches, sheet.
Hand colored steel engraving.
Excellent condition.
With accompanying text.