(Filefish) ...Fishes of the British Islands. London, 1877. $95.00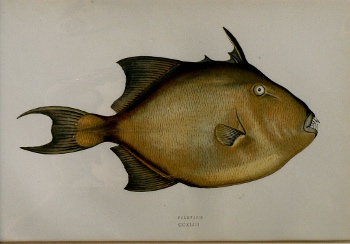 "FileFish"
Jonathan Couch was an ichthyologist, local doctor, botanist, archaeologist and classical scholar. His
A History of the Fishes of the British Islands
published in four volumes between 1862 and 1865, is considered to be his major work. It continues to be referenced by scientists and fishermen today. The illustrations were drawn by Alex F. Lydon after drawings by Couch. They were engraved and color printed from woodblocks by Benjamin Fawcett and finished by hand.
Filefish belong to the family of Monacanthidae and are found in the Atlantic, Pacific and Indian Oceans. Upon Couch's capture of the filefish, it had been seen only in Mediterranean waters and captured live only in waters off of Ireland. The fish was well known to the Ancient Greeks and Romans who lauded it for being bold and pugnacious.
7 x 10 inches, sheet.
Hand colored steel engraving.
Excellent condition.
With accompanying text.