(Doree) ...Fishes of the British Islands. London, 1877. $95.00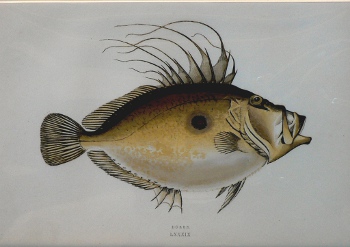 "Doree"
Jonathan Couch was an ichthyologist, local doctor, botanist, archaeologist and classical scholar. His A History of the Fishes of the British Islands published in four volumes between 1862 and 1865, is considered to be his major work. It continues to be referenced by scientists and fishermen today. The illustrations were drawn by Alex F. Lydon after drawings by Couch. They were engraved and color printed from woodblocks by Benjamin Fawcett and finished by hand.
The doree (or "dory") was considered sacred to Neptune, the God of the Ocean. Highly valued by the Ancient Romans, it is described by Ovid as "rarus." Most doree fish belong to the order Zeiformes.
7 x 10 inches, sheet.
Hand colored steel engraving.
Excellent condition.
With accompanying text.