George Wolfgang Knorr. (Red Crabs) Nuremberg 1750-79. Framed $1,250.00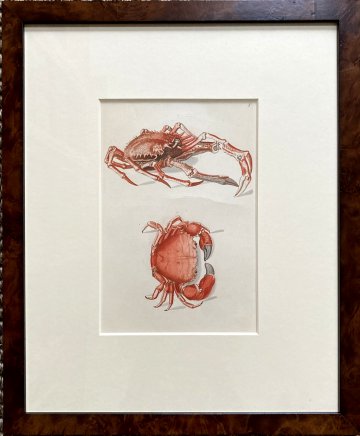 (Red Crabs)

Colorful natural history engraving of red crab included in a work that describes mammals, reptiles, birds, and marine life. These prints were created during the heyday of the collector's cabinet and are very much in the spirit of the Enlightenment.
This fine hand-colored copper engraved plate was an illustration from one of the greatest 18th century natural history books. The masterwork of Georg Wolfgang Knorr , one of the leading proto-geologists of the 18th century as well as an excellent engraver, painter and art dealer. Born in Nuremberg, Knorr was an engraver of copper-plates. Working in Nuremberg Knorr was influenced by the wealthy doctor and polymath Christoph Jakob Trew, owner of a menagerie as well as a wide-ranging natural history collection. Trew gathered around him a highly talented group of artists, engravers and scientists, all of whom contributed to making Nuremberg a center for the publication of top quality large format natural history books. In this stimulating intellectual atmosphere Knorr went on to publish a number of lavish folio volumes. This original hand colored engaving was included in the large paper edition of Deliciae Naturae Selectae Oder Auserlefenes Natüralien-Cabinet [Selected Delights of Nature, or the Exquisite Collector's Cabinet] printed between 1750-79.
Copperplate engraving with full original hand color.
Archivally framed measuring 24 x 19.5 inches finished size.
Very good condition.