(Five lobsters) Tableau Encyclopedique et Methodique...Paris 1790. $225.00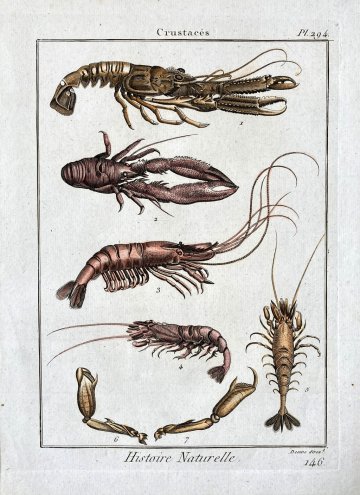 Plate 294 Five lobsters

Five lobsters with anatomical details hand tinted original copperplate engraving on laid paper. This natural history plate was includedas an illustrated plate in Charles Joseph Panckoucke's, Tableau Encyclopedique et Methodique des trois regnes de la nature, published in Paris in 1790. The Encyclopedia was issued during the time of the French Revolution by the most knowledgeable French writers and scholars of the day. The section that included crabs ad lobsters was edited by Jean-Baptiste Lamarck (who was recognized for his early and provocative philosophy on evolution) and engraved by Jacques de Seve.
The work was an extremely popular and influential work.

Original full hand colored copperplate engraivng
11.5 x 8.5 inches sheet
Excellent condition.