Seba, Albertus. (Snakes Plate 5) Locupletissimi Rerum Naturalium … Amsterdam 1734-1769. Sold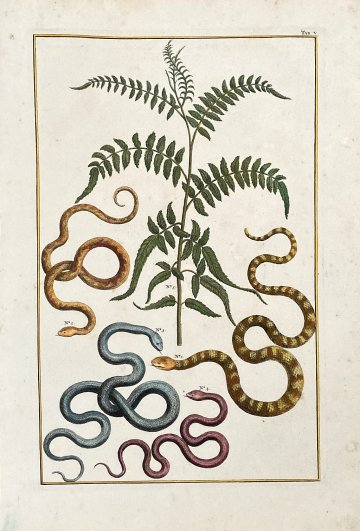 Tab V

As exploration and colonization expanded contemporary knowledge, so too did the new "wonders" of the natural world which were brought back to Europe and studied. The documentation of these new finds was quite important and wonderful natural history books were created to collate and define the new arrivals.
One of the most renown "Collections of Curiosities" was put together by a Dutch apothecary named Albertus Seba (1665-1736). As a member of the Dutch East India Company, Seba had access to many exotic and unique natural history specimens brought back from far flung lands. His collection included birds, lizards and snakes, butterflies and insects, shells and exotic sea life, unusual mammals such as bats and anteaters, as well as exotic plants. The collection also included some fakes (specimens put together to attract attention and interest) such as a seven-headed hydra. Seba's first collection was sold to Peter the Great in 1716. He was possessed and put together a second even more exotic collection of natural history specimens which he had illustrated and described in a set of engraved-plate volumes. Seba recruited well known Dutch artists and engravers to illustrate at great cost his: Locupletissimi Rerum Naturalium Thesauri Accurata Descriptio, et Iconibus Artificiosissimis Expressio, Per Universam Physices Historiam, which was issued between 1734-1769. The plates are wonderfully designed, some specimens arranged by species, while other prints detail seemingly unrelated animals and plants. Seba wrote most of the text for the first two volumes that accompanied the engravings and collaborated with the many of the most noted scientists of the day. After Seba's death in 1736, just as publication had begun, his second collection was auctioned off to finance the project. Actual specimens from Seba's cabinet of curiosities are still in collections in St. Petersburg and in natural history museums around the world.
Copper plate engraving on laid paper with full hand color.
19 5/8 x 13 ¾ inches sheet.
Very good condition.