Chinese Export Watercolor "Chinese Boat" c. 1800-1810. Framed $2,250.00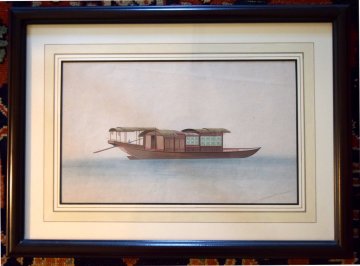 Scarce Original Chinese Export Watercolor Boat
Chinese export watercolors were painted in the port cities of China for sale to western customers in the late 18th and 19th centuries during the height of the China Trade era. American's China trade was robust after the Revolutionary War, as 19th century Boston-based entrepreneurial merchants (like their British counterparts) seized the opportunity to trade with the East. Originally brought home as souvenirs by merchants and sea captains, these handsome watercolor paintings soon became commodities in their own right. Works were done in watercolor or gouache, initially on European papers and later, on pith "paper," produced from the pith of the Chinese plant tongcao. Many watercolors were painted as sets describing trades, domestic interiors and gardens, boats, birds, mandarins, etc. Certainly, the most popular and desirable were sets illustrating tea culture, silk industry, and porcelain production, as they explained visually, those products imported to the west. Colors used were those common in Chinese painting, but there was a clear tendency for primary hues to predominate, especially in those done on pith paper.
"These subjects were immensely popular…, since they explained to the westerner, in a most imaginary, glamorous and unrealistic manner, the making of products sent to the West.
Ref: Crossman, Carl. The Decorative Arts of the China Trade, pg. 170
These watercolors were meant to be displayed. As they are fragile works of ground pigment on paper, they are/were susceptible to the elements, and very few exist in good condition.
An original gouache watercolor on paper, archivally framed.
Measuring 8.5 x 14 inches sight, 15 x 20.5 framed.
Excellent original condition color intact with no fading, a beautiful original watercolor.