Chinese Export Watercolor (A Tea Hong in Canton) c. 1800-1810. Framed $6,500.00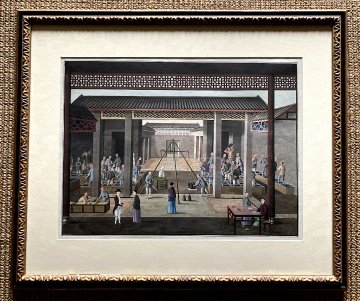 "A Tea Hong in Canton"

A gouache watercolor painted on paper depicting an aspect of tea cultivation in China during the late 18 early 19th centuries. Sets of watercolors depicting tea cultivation, porcelain making and silk production were extremely popular in the European and American markets during the height of the China trade.
Originally produced in sets of twelve, the watercolors were meant to be displayed and as such were exposed to harmful elements (why very few exist in good condition and why very few complete sets are available). According to Carl Crossman in his book The Decorative Arts of the China Trade, (pg.170)

"These subjects were immensely popular…, since they explained to the westerner, in a most imaginary, glamorous and unrealistic manner, the making of products sent to the West. The most desired watercolor in a series was the one which depicted a western merchant in a wonderful period dress negotiating with the Chinese merchants. The tea culture series represented all the processes from growing the tea bush to its final shipment and sale. Since tea was the major commodity of the trade these watercolors found a ready market."
This watercolor is the last in the series and depicts the western merchant finalizing his transaction. The detailed interior scene shows workers flattening the tea, weighing the tea in beautifully painted chests, accountants totaling the invoice, and the final negotiations between the Western and Chinese merchants.

Considered the most desirable of the series, truly a scarce find in such excellent condition.
Original gouache watercolor on wove paper, archivally framed.
Sight 14 x 18 ¼ inchesFramed 21 ¼ x 25 ¼ inches.
Excellent condition.