Pair of folio size Anglo-Chinese botanical watercolors. (White Flower) Early 19th century. Archivally framed. Showing one of a pair. $2,200.00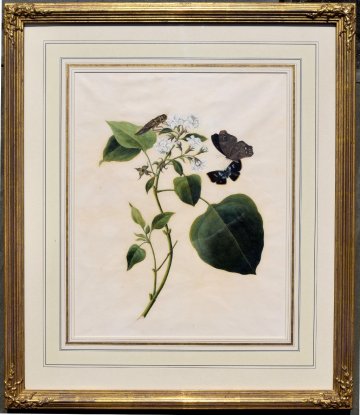 White botanical with blue butterflies (one of a pair)

Chinese export watercolors were painted in the port cities of China for sale to western customers in the late 18th and 19th centuries during the height of the China Trade era. Originally brought home as souvenirs by merchants and sea captains, these handsome watercolor paintings soon became commodities in their own right. Works were done in watercolor or gouache, initially on European papers and later, on pith "paper," produced from the pith of the Chinese plant tongcao. Many watercolors were painted as sets describing trades, domestic interiors and gardens, boats, birds, mandarins, etc. Certainly, the most popular and desirable were sets illustrating flowers, birds, bees and butterflies.
"Botanical subjects were some of the very few that grew out of a native Chinese tradition. The Chinese concern for their flora had resulted in centuries of accurate representation of an infinite variety of species. The West, avid for new information on new species, especially after the impact of the Cook Voyages and others undertaken by botanists and draughstmen for the sole purpose of exploration and the furtherance of knowledge, could obtain highly accurate and wonderfully rendered examples of Chinese native plants. With their great detail and delicate colouring whether viewed as single sheets or an album of vast numbers, are certainly among the finest paintings for the export market."
Ref: Crossman,Carl. Th Decorative Arts of the China Trade. 1991 pp182-3.
These watercolors were meant to be displayed. As they are fragile works of ground pigment on paper, they are/were susceptible to the elements, and very few exist in good condition and very few complete sets ever come onto the market. This pair of unsigned large watercolor botanical studies are painted on watermarked Whatman paper. They are delightful in their design and accuracy and the insects heighten what is already a pleasing composition. They are archivally framed in gold leaf carved corner frames with French wash mattings.
Watercolor on Whatman paper.
Sheet paper approx. 16.5 x 13 inches.
Framed 23 x 20 inches outside dimension.
Excellent original condition.