Martin, Mrs. G. "Rhododendron..." English,circa 1830.$1,200.00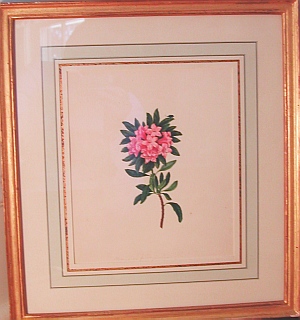 Inscribed in pencil at bottom center "Rhodendron Ferrugineum."
Signed by the artist on verso.
At a time when western European women of good breeding studied watercolor painting, Mrs. G. Martin was one of the few amateur botanical artists who was recognized as being truly talented.
15 x 17 inches, overall.
Watercolor on paper.
Framed in gold leaf with hand painted French matting which matches next item.
Very nice condition.
Provenance: John Mitchell & Sons, London.