Folger, James Walter. (Trompe l'oeil still-life) Nantucket, 1886. $4,950.00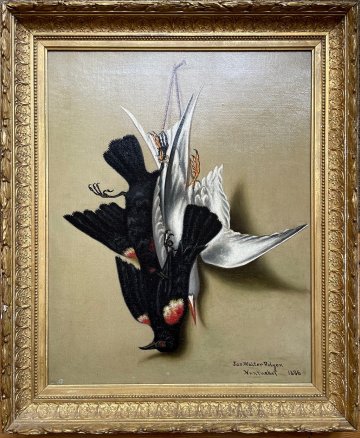 James Walter Folger (1851-1918) was a Nantucket artist who was largely self-taught. He worked briefly as journeyman to a woodcarver and is known for his carved scenes and dioramas and oriental carvings but he was also an accomplished painter in oil and watercolor. This painting clearly shows his skill with oil paint. Examples of all the forms of art James Folger created are in the NHA collection.
Most Nantuckers will be familiar with his last name and indeed James Walter Folger is descended from Peter Folger (or Foulger) who was a Baptist missionary, a teacher, and an interpreter of the Wanpanoag language for the first settlers of Nantucket. Peter Folger was the maternal grandfather of Benjamin Franklin. Members of the Folger family played prominent roles in subsequent generations on Nantucket and Martha's Vineyard.
Signed, inscribed and dated "Jas Walter Folger/Nantucket 1886"
Oil on canvas.
Framed in beautiful mid 1880's gold leaf frame completely appropriate to the art.