Walker, William Henry. (The Rain Storm) British, ca. 1920 $450.00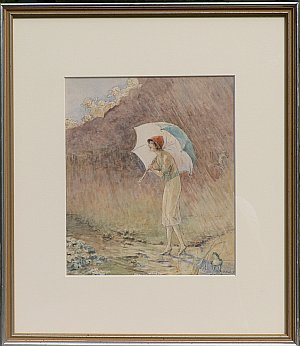 (The Rain Storm)
William Henry Walker (1878-1961) was a British painter of children with a particular fondness for fairies and architectural subjects. He exhibited at major art galleries between 1900 and 1926 including the Royal Academy, but most often at Walker's Galleries, London, a family business. He illustrated the 1907 edition of Alice's Adventures in Wonderland published by Lane.
A charming image of putti peering over the edge of a dark cloud looking down upon an unbrella toting young woman and a frog enjoying the puddles beside her. A figure in the background races for cover.

Watercolor on paper.
Archivally framed with rag mat.
15 1/4 x 13 1/4 inches, overall.
Excellent condition.