(Fancy Chicken) Watercolor and ink on paper. $550.00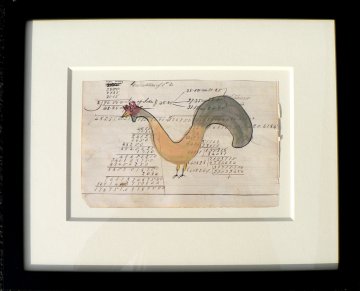 (Fancy Chicken)
A whimsical work from a wonderfully charming series in the style of depression era Lancaster County, Pennsylvania Mennonite watercolors of birds and animals including farm, domestic, and fanciful creatures. Each work was painted on 19th century ledger sheets with brown ink notations.
A great piece of American folk art in the tradition of fractur.

5 3/4 x 7 3/4 Inches sheet.
Excellent condition.
Framed to museum specifications.
Contact us for finished dimensions.