(Skier in Alpine Landscape). English, 1913. Framed. $1,350.00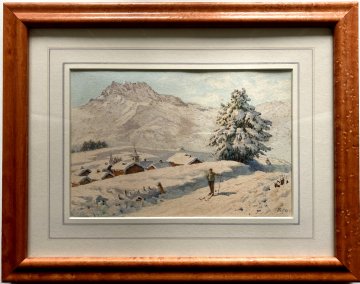 Skier in Alpine Landscape

Charming small watercolor by John Hardwicke Lewis (English 1840-1927) a portrait and landscape painter who studied both in England and France. His work was exhibited at major galleries in London, at the the Royal Academy and the Royal Institute of Painting.
The winter scene is indeed charming showing a skier in the foreground at rest, while just behind him comes a second figure seated on a sled. The landscape is beautifully and sensitively painted, the alp in the background, the snow covered roof tops, church spire and fir tree laden with snow are all realistically and carefully rendered. A small seasonal treasure!

Initialed and dated lower right corner.

Watercolor on paper.
7 x 10 inches image, 12 x 15 inches framed outside.
Very good condition.