(scene on the Wissahickon) 1886 Photograph of Forbidden Drive $650.00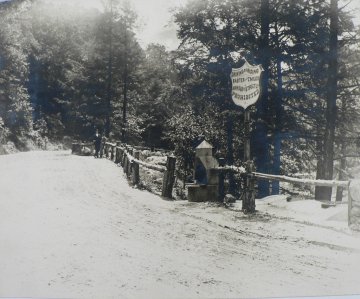 A wonderful original 19th century photograph of Forbidden Drive in Fairmount Park at the junction of the Lower and Upper Drives. Two men identified as Charlie Palmer and W.C. Morgan pose against the rail fence in the background. The sign in the foreground provides a charming reminder of a time when people and vehicles moved more slowly. It reads "Driving or Riding Faster than 7 miles an hour is strictly prohibited." Wagon tracks reveal the common mode of transportation.
10 7/8 x 12 5/8 inches, sheet size of photograph.
Framed to archival specifications in period appropriate antique mahogany cove molding with ebony inserts.
15 5/8 x 17 3/4 inches is the over all framed size.
Excellent condition.