(Coaching) ...The Tally-Ho... New York: Harper's Weekly, 1878. $195.00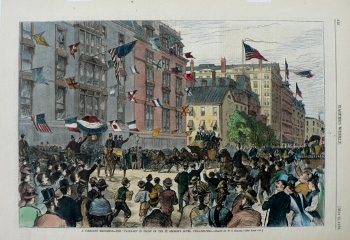 "A Pleasant Excursion – The "Tally-Ho in Front of the St. George's Hotel, Philadelphia."

W. P. Snyder created the drawing that was reproduced as this wood engraving in the May 25, 1878 edition of Harper's Weekly. The scene depicted is probably the heralded ahead of schedule arrival of the Tally-Ho stage coach at St. George's Hotel on Broad Street, Philadelphia. An article concerning the newsworthy event appeared in the May 7th 1878 New York Times. The arrival drew scores of on lookers, who as the article reveals, were mostly working class people as they, not fashionable people were up and about at the early morning hour when the coach arrived. Or, this engraving could be depicting another newsworthy expedition of the Tally-Ho; the May 13th round trip coaching excursion of Fairman Rogers and A.J. Cassatt between Philadelphia and New York. The May 14th edition of The New York Times describes the event as "Both Mr. Rogers and Mr Casssatt frequently go to New-York City and return on the same day, but hitherto they have always come back on the cars. To-morrow, however, they will return behind a four-in-hand, and they will be up before the sun rises over the East River. They will come back as the guests of the New-York Coaching Club..." The article continues to describe the preparations that have been made to try to keep the numbers of the "gaping mob" to a minimum.

11 x 16 inches, sheet.
Hand colored wood engraving.
Excellent condition.