(Girard College) Meyer's Universum. Hildburghausen: J. Meyer, ca. 1832. $85.00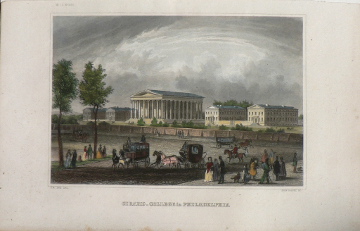 "Girard - College in Philadelphia"

A pretty view, based upon that of Charles Burton but not acknowledged, of the main building and its attendant structures. The street is full of well dressed figures and carriages. This engraving was included in Meyer's viewbook showing the cities of the world.

5 3/4 x 9 inches, sheet.
Handcolored steel engraving.
Excellent condition.