(Franklin Square, Philadelphia) Philadelphia: J.T. Bowen, 1839. $1,100.00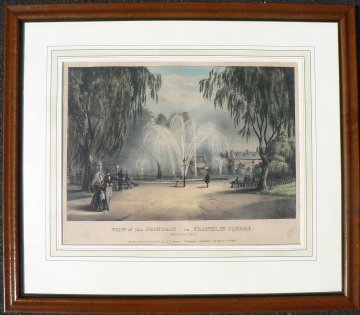 "View of the Fountain in Franklin Square, Philadelphia"
A charming original antique lithograph of the park originally bounded by Sixth, Race, Vine and the back lots of Eight streets. In Penn's original plan the square was described as "North East Publik Squar." It was renamed Franklin Square as a result of General Lafayette's tour of the United States and in particular, his return to Philadelphia which swept the city into a nostalgia for the glory days of the revolutionary era. In 1825, the city councils named the squares around Independence Hall after patriots, Washington, Franklin, Rittenhouse and Logan. In this lithograph by J. T. Bowen, a circle of benches surround the handsome fountains built in 1838, the year before this print was created. Tall trees frame the view and handsomely dressed prosperous citizens enjoy a relaxing stroll. During the 1960's the creations of roads surrounding the park contributed to its fall into disuse. Fortunately, Historic Philadelphia used a grant from the state of Pennsylvania to restore Franklin Park to its 19th century glory.
Hand colored lithograph.
18 ¼ x 21 inches, framed.
Ref: Wainwright, Philadelphia in the Romantic Age of Lithography, 59, 230, Wolf, Portrait of an American City, p. 171.