Jacob Hoffman. Green Hill. Boston: Massachusetts Magazine, 1792. $150.00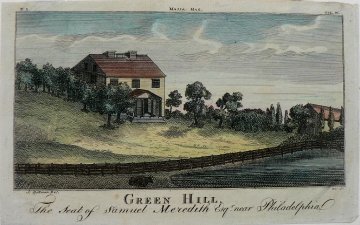 Jacob Hoffman. Green Hill. Boston: Massachusetts Magazine, 1792.
The Massachusetts Magazine was the second American magazine to include prints of Philadelphia. It included three engravings by the Philadelphia landscape artist, Jacob Hoffman. In the lower right, the print shows that Samuel Hill was the engraver. It is a pretty bucolic view of the home and property of Samuel Meredith, a well-known merchant and financier who married into the Cadwalader family. Meredith was a major and lieutenant colonel of the Third Battalion of Association known as the "silk stocking battalion because its members came from leading Philadelphia families. Meredith's skill and bravery in the battles of Trenton, Princeton, Brandywine and Germantown earned his a promotion to brigadier general of the Pennsylvania Militia. He resigned from the army and served three terms in the Pennsylvania Assembly (1778-1783) and was elected to the Confederation Congress. He was a Federalist. (See explorepahistory.com for more) Green Hill was his property near Philadelphia, It is thought to have stood on the east side of Ridge Avenue north of Poplar Street.
Hand colored copperplate engraving.
4 ½ x 7 3/8 inches, sheet.
Excellent condition.