Wild, John Caspar (Manayunk) Philadelphia: Wild & Chevalier, [1836]-1838. Framed $695.00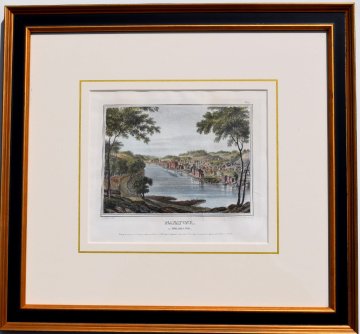 "Manayunk near Philadelphia"
The Swiss born lithograph J. C. Wild found his way to Philadelphia where he set up a print shop and conducted business from 2 Dock Street. By the early 19th century Philadelphia was experiencing an era of great prosperity which translated into a building boom of beautiful new public and private structures. Wild capitalized on this and published a small format delicately colored lithographed work of 24 prints depicting many of the newly constructed classically styled architecture entitled, Panorama and Views of Philadelphia And its Vicinity. Embracing a Collection of Twenty Views, Drawn on Stone, by J.C. Wild , from His Own Sketches and Paintings. Wild's volume of views was well received and well suited for the respectable middle class citizens of the city. His views interesting and informative historical references to early Philadelphia and are significant as the first use of lithography in this format.
Lithograph with full original hand color.
11 x 13 inches sheet size.
Archivally framed 15" x 16" finished
Excellent original condition.