Photograph of Manayunk. Circa 1900. $695.00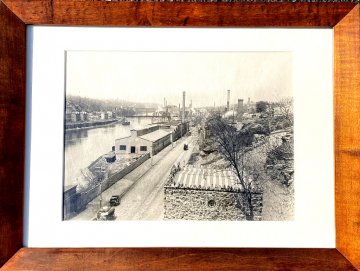 Photograph of Manayunk c. 1900
A wonderful turn of the twentieth century photograph of Main Street Manayunk taken on the east side of the Schuylkill river looking west. The East end of the Schuylkill Canal would have been at the bridge closest to the viewer. The photographer gives us a slightly elevated view probably afforded by the roof of an adjacent building.
On the south side of the river are the hills excavated to make way for the Schuylkill Expressway.
At this point in time, Manayunk was really an economic powerhouse. With the invention of the steam engine (to replace water power), mills typically moved out of creek valleys and into flatter areas, including the muddy islands along the river. That allowed the concentration of more workers in bigger factory buildings with wide floors.
Horse and cart still seems to be the primary way people were moving wares along the roads.
9 x 12 inches.
Framed to 13 x 18 inches overall in solid walnut molding.