(Independence Hall) Views of Philadelphia. Philadelphia, 1912. $1,100.00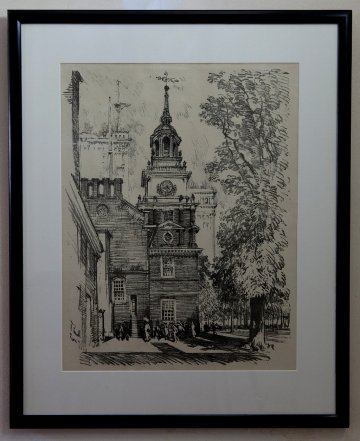 "State House Yard"
Joseph Pennell (American 1857-1926) was one of the most prolific and successful practitioners of etching and lithography during the golden age of American illustration, at the turn of the 20th century. Pennell, a Philadelphia Quaker artist and author was recognized for his beautifully drawn architectural lithographs and etchings celebrating historic landmarks which he termed his "Municipal Subjects." He was encouraged to draw by his parents and as a young man sold coal while attending night classes at the Pennsylvania School of Industrial Art, and later the Pennsylvania Academy of the Fine Arts, studying under famed teacher and figural painter Thomas Eakins. In 1883 Pennell married Elizabeth Robins, moved to Europe, where his etchings, lithographs, and illustrations were in great demand. The Pennells were very close friends with James McNeil Whistler and published a biography of Whistler. They collected his prints, books, and letters, later donating them to the Library of Congress. The couple published other books, including manuals on book illustration and printmaking technique.

With the outbreak of World War I, the Pennells returned to the United States, settling in New York. Pennell taught at the Art Students League in New York. He also maintained an active presence in his native city, where he was a founder of the Philadelphia Society of Etchers. Pennell, an early Modernist, captured the grandeur and beauty of Philadelphia in a series of large lithographs printed in 1912. We are very pleased to offer these exceptional views of Philadelphia which have become quite difficult to find in good condition.
Lithograph, signed in plate.
23 x 18 inches site, 31 x 25 inches framed.
Archivally framed. Excellent condition.