after Henry Inman. William Penn. Engraved by William Sartain. Philadelphia: James S. Earle, 1834-5. $895.00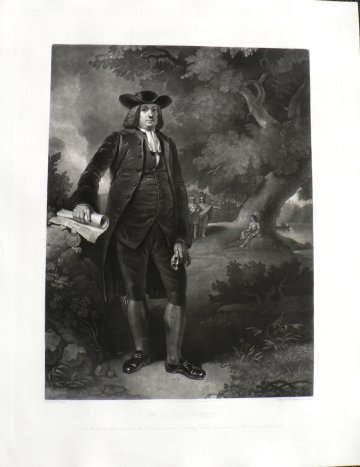 "William Penn, made from the original painted for the Society for commemorating the landing of William Penn on the shores of the Delaware, October 1682."
A beautiful full length portrait of the founder of Pennsylvania holding his charter from the English king in his right hand and a glove symbolizing elegance and status in his left. Philadelphian, William Sartain's skill as a master of the complex mezzotint medium is evident in the wide range of tonal variations, enormous detail and the almost tactile textures of the foliage and the velvet, silk and leather of William Penn's apparel. The scene is intended to call to mind the agreement for peace reached by Penn with the Lenape Indians at Shackamaxon beneath an enormous tree that came to be known as The Treaty Tree. Native Americans and a canoe are depicted near it. The tree was brought down in a storm in 1810 and a small monument was erected in its place. A park was opened there in 1893 and a descendant of the original tree was planted in 2010 in the popular Treaty Tree public park in the area now known as Kensington.
Mezzotinted engraving.
28 ¾ x 22 ¼ inches, sheet.
Excellent condition.