(John Burgoyne) Dublin: Hiberian Magazine, 1777. $125.00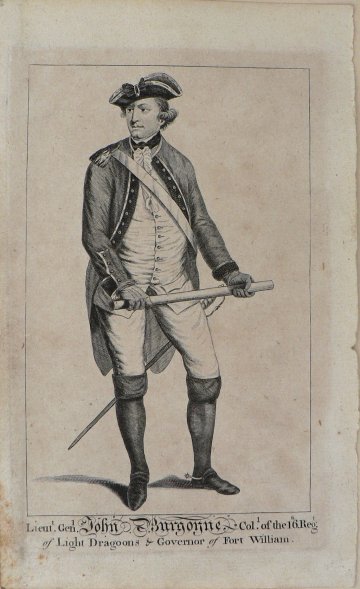 "Lieut.t Gen. John Burgogne.Col. of the 16.Reg. of Light Dragoons & Governor of Fort William"
Burgogne is best known for his role in the American Revolutionary War. He designed a plan to move his British troops south from Canada into New England in an effort to end the "rebellion." He ended by surrendering, an event which is regarded by some historians as the turning point of the war.
In this skillfully engraved and beautifully detailed depiction Burgogne is shown earlier in his career in the uniform of the Light Dragoons a British cavalry regiment.
Engraving.
8 ½ x 5 ¼ inches, sheet.
Very good condition with some evidence of handling and light mat burn outside of image.