J. Alphege Brewer. The Lone Pine. Etching. British, c. 1930. $395.00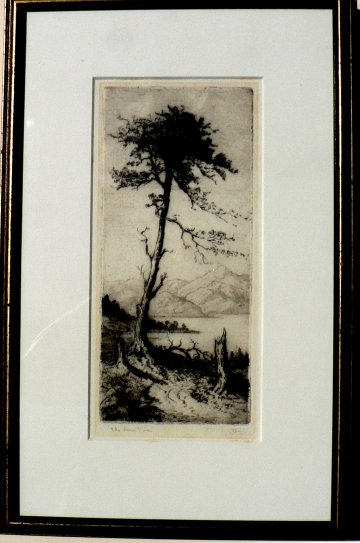 "The Lone Pine"
The British James Alphege Brewer (1882--1938 ) was the son of artist H.W. Brewer. He was academically trained and exhibited at the Royal Academy, Royal Cambrian Academy and Royal Institute of Painters. He spent most of his professional career in Paris.
Brewer produced watercolors, hand colored linocuts and woodcuts as well as uncolored etchings. He is best known for his architectural views of the great European cathedrals but he also produced many effecting works on this subject, a lone tree set against a landscape distant background.
Drypoint etching.
4 3/8 x 10 ¼ inches, plate.
Strong impression.
Pencil signed and titled by the artist.
Light mat staining otherwise excellent condition.
Framed to approx. 16 ¼ x 10 ¼ inches.
Purchased from Mabel Zahn at Charles Sessler, Philadelphia.