David Young Cameron. Lake at Monteith. Drypoint etching. 1924. $325.00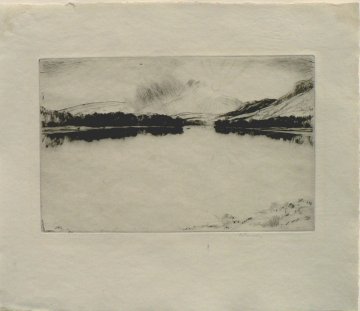 "Lake at Monteith"
This place was a favorite subject of the artist.
DY Cameron (1865-1945) was born in Glasgow, Scotland. He studied at the Glasgow School of Art and at the Edinburgh School of Art. He gained international recognition for his print making skill and in 1889 he was elected associate of the Royal Society of Painter-Etchers. He was commissioned by the Canadian Government to paint the war in France. He was knighted in 1924 and became a trustee of the Tate Gallery and Scottish National Gallery.
He is best known for his architectural works and landscapes which frequently contrast areas of intense darkness with bright highlights.

9 x 7 ¾ inches, sheet.
Pencil signed in bottom margin.
Drypoint etching.
Excellent condition.