Timothy Cole after J. Francis Murphy. (Landscape) New York, 1918. $175.00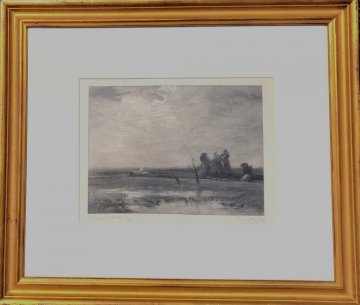 This moody and atmospheric print is the result of the collaboration of two highly regarded American artists, the painter J. Francis Murphy and the engraver Timothy Cole. J.Francis Murphy (1853-1921) was an American tonalist painter born in Oswego New York who moved to Chicago and then to New York City. He exhibited at The National Academy of Design for many years and in 1878 he was elected to the Salmagundi Club. In 1887, he built a cabin in the Catskills where he spent half the year. His winter studio was in the Chelsea area of New York City. Timothy Cole (1852-1931) was born in London and immigrated to the U.S. at age five. He was apprenticed in Chicago to a commercial wood engraving firm, Bond and Chandler but he left the city in 1871 when his work and possessions were destroyed in the city's Great Fire of that year. In New York Cole did freelance wood engraving, and between 1875 to 1915 had contract work with Charles Scribner and Sons as a magazine engraver. Century Magazine commissioned him to travel to Europe where he created some of his most well-known works, his copies of Italian, Dutch, Spanish, and Flemish Old Masters that were reproduced in books. Despite the eclipse of the medium of wood engraving by the invention of the new mechanical process of print production, his skill granted him recognition as one of the masters of wood engraving. He received a medal of the first class at the Paris Exhibition of 1900, and the only grand prize given for wood engraving at the Louisiana Purchase Exposition at St Louis, Missouri, in 1904. In 1906 he was elected into the National Academy of Design as an Associate Academician, and became a full Academician in 1908. Like Murphy, Cole spent a great deal of time in the Catskill Mountains if New York.

Wood engraving.
Approximately 9 x 12 inches, sheet.
Framed to 16 x 19 inches, overall.
Signed in pencil in margin by Murphy at lower left and Timothy Cole in lower right.