Haden, Seymour. Sunset In Ireland.1863. $1,100.00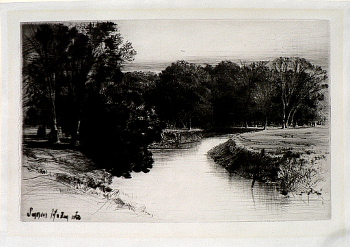 "A Sunset in Ireland"
Francis Seymour Haden (1818-1910) was trained as a surgeon but best known as an etcher. Self-trained though study of the Old Master printmakers, his work was influenced by that of his much younger brother-in-law, James Whistler. For a time, Haden and Whistler collaborated on making a series of prints of the River Thames on a press in the Haden home. However, this collaboration did not last. Haden preferred to work directly on the plate while looking at the subject. This image of the Dundrum River in Ireland is considered to be one of his best etchings.

Drypoint with rich burr.
Signed in plate.
Proof.
Second of two published states
Reinforced along left plate mark.
Mat burn conserved but evident.
Light ink stamp on reverse - "C.W. Dowdeswell" (well known art dealer in the 19th century)
Harrington No. 51.