Sydney Mackenzie Litten. Night and the Salute Venice. Etching with drypoint. $395.00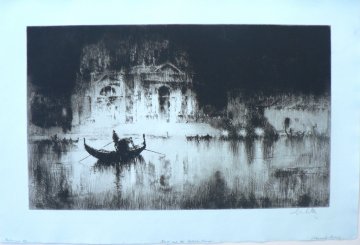 Night and the Salute Venice"
Sydney Mackenzie Litten (1887-1949) was a British etcher and engraver of landscapes and architectural subjects, working principally in Italy and Spain. He studied at St. Martin's School of Art and the R.C.A under Frank short. He exhibited at the Royal Academy.
A particularly appealing and evocative night scene set on the canal directly in front of the cathedral.
13 ½ x 20 inches, sheet.
Etching with drypoint on blue green tinted wove paper.
Richly inked.
Pencil signed at lower right.
Impression 80.