James McBey. (Zaandam) Etching. 1824. $1,100.00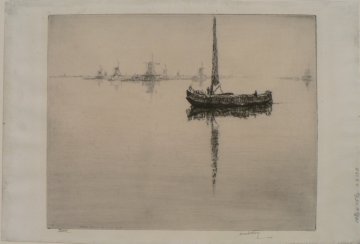 "Zaanstreek"

James McBey (1883-1959) was born in Scotland. He became interest in printmaking and taught himself how to etch by reading about printmaking and by studying Old Master prints especially those by Rembrandt. In 1910, he left the banking profession and began to pursue a career as an artist. He was financially successful almost immediately. McBey was appointed an official war artist to the Egyptian Expeditionary Force in WWI. Throughout 1917 and 1918 he accompanied the Allied advance in Palestine from Gaza to Damascus. He travelled widely but despite marrying a woman from Philadelphia and becoming a United States citizen in 1942, he was drawn to the Middle East. He died in Tangier, Morocco.
A quiet scene on a still day with a single boat floating, reflected on the water. The far distant background shows windmills.
19 ¼ x 13 ½ inches, sheet.
Signed in pen at lower right.
Marked XXXII (out of edition of 76)
Provenance: Knoedler & Co, to Charles Sessler.
Nice impression. Very good condition overall accept small tear on plate line at lower right corner without loss. Edges of sheet show handling and minor tape residue.