W. Douglas MacLeod. Chatean Blois. ca. 1929. Etching and drypoint. $250.00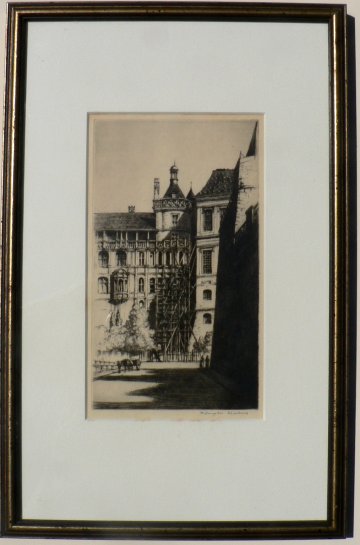 "Chateau Blois"
MacLeod (1892-1963) attended classes at the Edinburgh College of Art and the Glasgow School of Art. He is best known for his scenes in France, Italy, Spain, Morocco, Algeria, Belgium, Holland and Scotland. He exhibited in the company of other Scottish artists including D.Y. Cameron, James McBey, Muirhead Bone, and Arthur Briscoe. MacLeod is known for the great delicacy of line of his etchings. The play of light and shadow over the walls is also particularly skillful in this work.

The construction of the chateau de Blois was begun in the 13th century in the center of the city. Many additions were added over the course of the subsequent four centuries. The palace is one of the most magnificent of the Loire chateaux and it is rich with French history. It served as the residence of French kings Louis XII, Francois I, Henry II, Henry IV and Marie de Medici was exiled there by her son, Louis XIII when her husband, Henri IV died. Blois was also where Joan of Arc went in 1429 to be blessed by the Archbishop of Reims before she took her army to drive the English from Orleans. It was one of the first chateaux to be declared a national monument and restored in the second quarter of the 19th century. It is interesting that MacLeod has depicted it with one of its tower's in scaffolding.
Etching and drypoint.
Signed in pencil lower right.
8 ¾ x 5 inches, plate.
Framed to 16 ¼ x 10 3/8 inches.
Provenance: Charles Sessler