Peter Moran. The Bay Shore. Etching. 1891. $225.00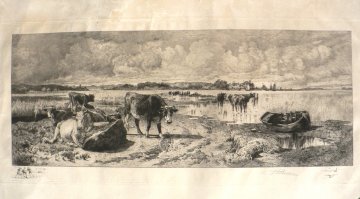 "The Bay Shore"
This monumentally large etching provides a panoramic view of a New England shoreline in summer at low tide. The cattle cooling themselves in the shallow waters of the foreground and middle ground are the principal subject but Moran also created a beautiful view of the distant shore line with its coves, harbors, summer cottages and sailboats plying the calm waters. David Wright identifies the scene depicted as probably the coast of Maine near York Harbor.
This is the second state of this print with the third remarque once located at the center of the margin burnished out. The remarque of sailors at work in the lower left and seagulls in lower right remain.
Pencil signed at lower left.
25 x 36 ½ inches, sheet.
14 ½ x 32 ½ inches, plate.
Good unrestored condition.This print may be cleaned for an additional charge,
Ref: David Wright, Domestic and Wild: Peter Moran's Images of America #133.