Peter Moran. On the Neshaminy. Etching. ca, 1886. $225.00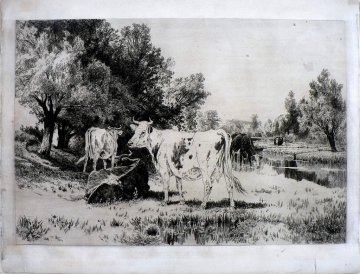 "On the Neshaminy"
Peter Moran (1841- 1914) was born in Lancashire England. His family emigrated to the United States in 1644 and settled in Philadelphia a year later. At sixteen Peter was apprenticed to a lithographer for a short time before he went to study art with two of his brothers. They had both become established artists and later became famous for their talent; Thomas Moran for his canvases capturing the grandeur of the American west and Edward Moran as a marine painter. Thomas introduced Peter to the American southwest and Peter traveled to Taos three times between 1880 and 1881 however, he maintained a studio in Philadelphia throughout his career. Peter founded the Philadelphia Society of Etchers and served as its president for the 23 years that the organization was active. He was also a founder of the Philadelphia Art Club and a member of the Philadelphia Sketch Club.

This appears to be a preliminary plate for the etching "On the Neshaminy" which Moran reworked in to three finished states then remarked and signed in the plate. This part of Neshaminy Creek is thought to be near New Britain or Edisto in Bucks County, Pennsylvania.
Ref: David Wright Domestic and Wild #89.
14 1/2 x 21 1 /2 inches, plate.
18 x 23 ½ inches, sheet.
Good unrestored condition with evidence of handling and surface dirt.
This etching can be cleaned for an additional charge.